State and National Award Winner!!
Project Overview: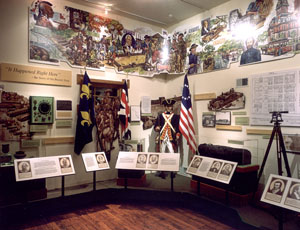 The Beaver Area Historical Society restored and renovated an abandoned historic railroad freight station into an award-winning museum facility, complete with climate-controlled exhibition and collection storage space, gift shop and managerial offices. Don Traub worked closely with local historians, the Board of Trustees and the project architect to plan both the facility and the exhibit.
Don organized an aggressive collections initiative that generated hundreds of historical objects, documents and photographs from the local communities. Historical items that were not in the organization's collection, but were vital to the exhibit's storyline, were located in various private and museum collections and secured for use in the exhibit. Don also trained volunteers in collection management and basic maintenance of the exhibition.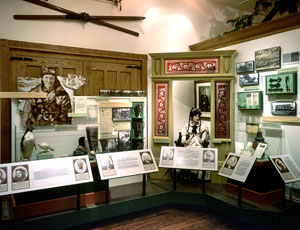 All stages of the exhibit process were managed by Traub Design Associates* including the design and production of a 4´ x 40´ mural illustrating historical events, people and locations from the Beaver area. The long-term displays were effectively created by combining mannequins with enlarged mural elements, historic artifacts (cased and uncased), reproduction photographs and graphics on perimeter platforms. A secondary movable platform with a safety glass barrier was also installed to display short-term exhibitions.
Project Date:

1997 - 1998


Exhibition Size:

800 sq .ft.


Services Rendered:

Exhibit Design, Fabrication & Installation
Facility Planning
Historical Research
Project Planning & Programming
Collection Management

Design Team:

Don Traub: Principal and Exhibit Designer
Dan Bridy: Mural Artist
Nicholas Traub: Graphic Designer

Deliverables:

Exhibit Budget, Production Schedule, Concept
Drawings & Renderings, Exhibit Illustrations, 3-D
Models, Mural Design, Exhibit Specifications
& Construction Drawings, Lighting Plan, &
Maintenance Manuals

State & National Award Winner:

Pennsylvania Federation of Museums & Historical Organizations - 1998
American Association for State & Local History - 1999

* Formerly known as Don Traub Exhibit Design