Senator John Heinz Pittsburgh Regional History Center, Pittsburgh, PA (Completed while Don Traub was Director of Exhibits at the Senator John Heinz Pittsburgh Regional History Center.)
Project Overview: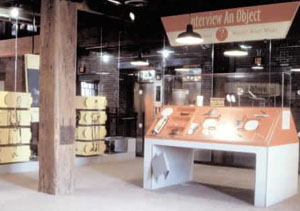 Two years of planning and design went into the creation of the Discovery Place, a highly interactive learning environment where children discovered, through assisted investigations, the stories of children and young adults who had lived and worked in historic Pittsburgh. The opportunity to create a learning environment using historical objects directly linked to personal narratives based upon historical research was exciting for the multi-disciplinary design team. Creating a wide range of cross-cultural, gender neutral interactive experiences was a challenge. Another programming goal was to provide an intergenerational experience between the parent, grandparent or caregiver and the child. That goal was accomplished by having the adult serve as the guide for their child's experience, thus making the adult an active participant with their child in the historical discovery process. As the Director of Exhibits and a member of the inter-departmental Discovery Place planning team, Don helped develop and focus the programming goals, as well as design many of the interactive stations.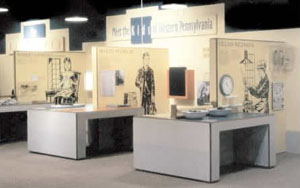 Upon entering the Discovery Place the child was furnished with a questionnaire by a docent/educator who urged the child and adult to become a team of "curators" or historical investigators. The questionnaire combined historical narratives and puzzles which, when completed, provided insight into the lives of the real historical characters who originally made or used the objects. Work simulation stations, i.e. pottery stamping and stain glass window construction, provided hands-on experiences and gave the child a greater appreciation for the skill, time, and effort required to complete the jobs.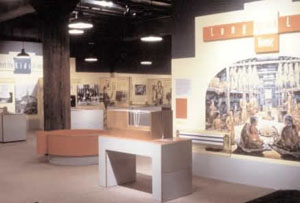 Opportunities for role play included: a jungle gym that simulated the steel making process, a beading loom located in the Native American area, and a miniature log cabin with child-sized frontier-type clothing that the children could wear. Telescopes positioned in windows and peering down into the Core Exhibit located one floor below, beckoned children to play "I Spy" and locate specific objects in period settings. Children also had the opportunity to experience the joys and dangers of riverboat travel and shipping by playing a custom designed board game.
Project Date:

1996


Exhibition Size:

1200 sq .ft.


Services Rendered:

Exhibit Planning & Programming
Exhibit Design
Project Management

Deliverables:

Exhibit Budget & Schedule
Preliminary & Final Design Drawings
Construction Drawings
Maintenance Manual