Project Overview: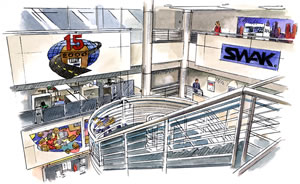 The RPS Corporation wanted to tell the story of their success to both their clients and their staff, while decorating the interior spaces of their new headquarters building. During the planning stage Traub Design Associates* suggested that the exhibit focus on their innovative business practices, technological breakthroughs and the outstanding personnel as the reasons for the corporation's amazing growth and success. However telling those stories using the minimal assemblage of technology and business related objects, documents and photographs would be impossible. A nationwide corporate-based search was launched to locate and procure important missing elements needed for the exhibits. The collecting initiative generated enough new resources to install exhibits in four locations within the building complex and the growing collection was processed using museum/archival standards.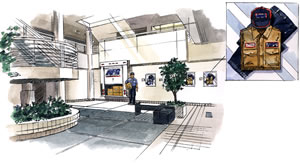 The four lobbies presented unique design opportunities and through an extensive and well orchestrated use of graphics and multimedia, they were distinguished from one another while being tied together by common elements.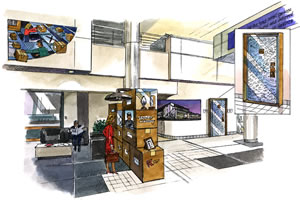 Inside the Main Lobby two island displays were installed that mimicked stacked cardboard boxes, and allowed for the incorporation of glass display cases with corporate awards and historical materials. On the box walls graphics and digitized reproductions of archival materials were applied. A video disc player equipped with a parabolic speaker, presents a series of company commercials. In another lobby a series of wall-mounted exhibit cases display a sequence of corporate truck drivers' uniforms; enlargements of corporate advertising flank the cases. In a multi-level lobby the technology theme is presented using large wall-mounted graphics, display cases that contain handheld electronic tracking devices, and corporate advertising touting technological advances. The fourth lobby, adjacent to the company cafeteria, presents personal stories of company personnel via the cartoon medium, as well as digitized photographs of company activities and personnel.
Project Date:

1999 - 2000


Exhibition Size:

Four locations = 1,500 sq. ft.


Design Team:

Don Traub: Principal & Exhibit Designer
Dan Bridy: Exhibit Design & Illustration Artist
Nicholas Traub: Exhibit & Graphic Designer

Services Rendered:

Project Management
Historical Research
Exhibit Design & Installation
Collection Management

Deliverables:

Exhibit Production Schedule
Exhibit Budget
Preliminary Concept Drawings & Renderings
Exhibit Illustrations & Graphic Designs
Exhibit Specifications & Construction Drawings
Exhibit Multimedia Specifications & Production
Exhibit Maintenance Manual
Collection Catalog

* Formerly known as Don Traub Exhibit Design