Project Overview:

It has been 30 years since the last American soldiers were evacuated from South Vietnam, but the Vietnam War that killed 58,000 Americans is far from over. Many Americans still do not know or acknowledge the personal trials and sacrifices of the thousands of American men and women who served, fought, were wounded and died in Southeast Asia. We as a nation have not yet healed the wounds that forever changed the face of war and nearly tore the United States socially and politically apart. The National Vietnam War History Center will educate those who were too young to experience the Vietnam Era (1959-1975), and help to heal the collective psyche of those who experienced that dark time. Through understanding and appreciation for those who gave so much of themselves we hope to help bring closure to this extraordinary period in our lives.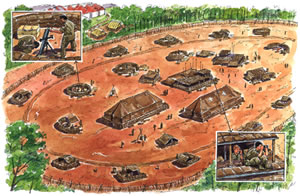 Since 1999 Don Traub has served as Consultant to the Board of Trustees of Fire Base Eagle, the Vietnam War Veterans organization that is developing the National Vietnam War History Center. Don organized a seven-member Consulting Team that provides expertise in all levels of museum and archival operations. The critical planning documents, the Facility Report and the Interpretative Plan, have been developed by the organization under Don's guidance, and exhibit concept drawings have been produced by Traub Design Associates.*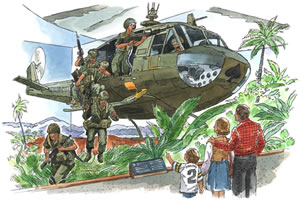 The facility will occupy 30 acres with a History Center building that will include: visitor services, 20,000 sq. ft. of exhibits, a large auditorium, classrooms, museum collection storage, oral history facilities and archival storage. On the surrounding grounds will be recreated: Vietnamese and Montagnard villages, a US Army artillery fire base, a North Vietnamese POW camp, a North Vietnamese Army tunnel emplacement, a"full-contact" building where visitors can experience a US Army night jungle patrol, and a Place of Meditation. The facility will utilize the full range of presentation techniques with a heavy emphasis on"first-person" interpretation to bring the personal stories of the US ground forces and support services to life.
Project Date:

1996 - Present


Exhibition Size:

30 acres


Projected Opening Date:

2005


Design Team:

Don Traub: Principal Exhibit Designer
Dan Bridy: Exhibit Design & Illustration Artist
Nicholas Traub: Exhibit Design & Graphic Designer

Deliverables:

Planning Documents: Facility & Interpretative Plans
Consulting Team Reports
Exhibit Concept Design Drawings

Services Rendered:

Consulting Services for Board Development, Facility Planning and Programming
Coordination of Facility Planning with Project Architects
Leader of Multi-disciplinary Consulting Team
Overall Exhibit Planning, Design & Installation
Design & Installation of Traveling Exhibits

*Formerly known as Don Traub Exhibit Design