Project Overview:

The Mahaffie Stagecoach Stop and Farm is the last remaining
stagecoach stop along the Santa Fe Trail. The city-owned site operates as a living history farm. In April 2008 a new visitors center allowed the staff to move offices and gift shop out of the historic home and create a museum space devoted to the farm's storied past.
The 15-month exhibit project combined both original photography and historical photographs with the extensive primary research that was provided by the client. The in-depth research was successfully incorporated through a variety of techniques: primary and secondary labels, rail labels and six flipbooks that were distributed throughout the space. Recreated period posters offer the visitor a quick summary of key events in the life of the Mahaffie family.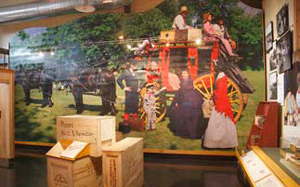 Original photography included a 680 sq. ft. photomural of the
Mahaffie stagecoach and passengers, which piques the interest
and invites the visitor to step outside into the past and enjoy
a stagecoach ride to the historic house and farm. A 42-foot
banner integrates the life of the Mahaffies with the local, state
and national events of 1810 – 1910. Over 200 artifacts are
mounted and secured in acrylic cases atop barn-like carpeted
platforms or recreated wooden shipping crates.
Project Date:

2007-2008


Exhibition Size:

1400 sq .ft.


traub design associates team:

Don Traub, Principal Designer
Nicholas Traub Photography & Design, LLC
The Magic Lantern, Pittsburgh, PA, introductory film
Exhibit Associates, Inc., Exhibit Fabrication

services rendered & Deliverables:

Project Management
Exhibit Planning & Programming
Preliminary and Final Exhibit Design
Budget creation and management
Installation of artifacts, labels, graphics, multimedia,
lighting and artifact mounts.