Project Overview: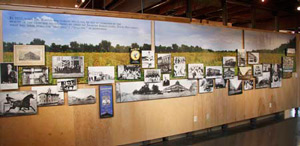 With the creation of the Olathe Heritage Center, the Olathe Historical Society saw their chance for a gallery where the long and rich history of Olathe Kansas could be told, shared and enjoyed. Prior to the availability of this space, the Historical Society had no space and a minimal collection. The creation of the Olathe Heritage Center by the City of Olathe provided the opportunity to partner the Historical Society with the Mahaffie Stagecoach Stop and Farm.
Traub Design Associates designed the space with two photographic montages: one of historical events, places and personalities selected for their importance to Olathe's past; and one with current photographs of city-owned historic sites.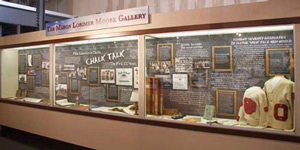 A large versatile exhibit case was designed as a rotating exhibit space located against a long wall, reserving the central floor space for future vitrine cases. The first exhibit installed in the wall case was entitled Chalk Talk: Public Education in Olathe – The First 100 Years. The exhibit included a large custom-designed wall graphic that presented text, quotations and historic photographs, supplemented with historical artifacts that were collected specifically for the exhibit and arranged on the floor of the case.
Project Date:

2007-2008


Exhibition Size:

400 sq .ft.


traub design associates team:

Don Traub, Principal Designer
Nicholas Traub Photography & Design, LLC
Exhibit Associates, Inc., Exhibit Fabrication

services rendered & Deliverables:

Project Management
Exhibit Planning & Programming
Preliminary and Final Exhibit Design
Budget creation and management
Installation of artifacts, labels, graphics, and lighting.