Project Overview: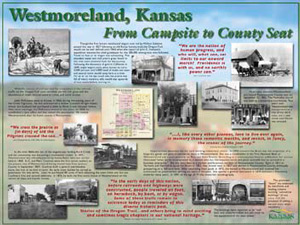 Though the first known westbound wagon train passed through Pottawatomie County in 1827, the Oregon Trail was not well established until 1842. For the next 20+ years, nearly 300,000 immigrants with their horses, mules, oxen, wagons and families followed the Trail to Oregon, California and all points in between. The mystique of the Oregon/California Trail still draws people to the area.
Beginning in St. Mary's, Kansas, and proceeding west and north over 27 miles to Westmoreland, Kansas, the Trail is visible and easily traveled.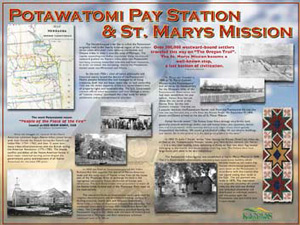 The Pottawatomie County Economic Development Corporation, together with the Historic Preservation Commission, saw an opportunity to enrich the visitors' experience with a series of interpretive markers, not only enhancing the Trail experience, but
also celebrating other historical milestones in St. Mary's and Westmoreland. Traub Design Associates created three distinct but compatible designs for the markers, allowing each location a unique and expandable design while unifying the entire project through common design elements.
Project Date:

2007


Exhibition Size:

36 sq .ft.


traub designs associate team:

Don Traub, Principal Designer
Nicholas Traub, Principal Graphic Designer

services rendered & Deliverables:

Exhibit Planning & Programming
Research of Archival Resources
Preliminary and Final Exhibit Design