Senator John Heinz Pittsburgh Regional History Center, Pittsburgh, PA (Completed while Don Traub was Director of Exhibits at the Senator John Heinz Pittsburgh Regional History Center.)
Project Overview: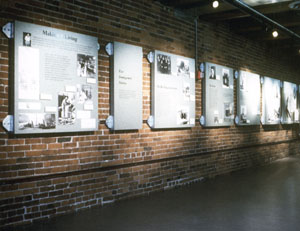 The flow of thousands of Italian immigrants into southwestern Pennsylvania started in 1880, peaked in the 1920's, but continued to be heavy through the 1950's. During that period a phenomena called "chain migration" was at work within the Italian American community. Italian men and boys would arrive in America first. They would find work and save their money and then they would return to Italy to bring their families and relatives to their new homes in the Pittsburgh area. The trades, traditions, and lifeways that were the foundations of their lives in their native regions of Italy were transplanted into the many ethnic communities and small towns in and around the Pittsburgh region. These "new" Americans and their children recorded their families' stories of personal struggles and rewards in their adopted homes during a multi-year oral history project that was the historical foundation for the exhibit.
The oral histories served as the primary source of information but the interviews lacked the necessary objects, documents and photographs required to mount an exhibit, and the historical society had only a minimal collection of Italian American materials. Don encouraged the oral historian/curator to institute a region-wide collecting initiative and he helped focus the collecting activities by pinpointing specific objects, documents and photographs that would best tell the story of the Italian American experience. The collecting initiative yielded a wide range of objects and documents: tools, clothing, visas and passports, personal letters, diaries, family photographs, religious statuary and stained glass windows.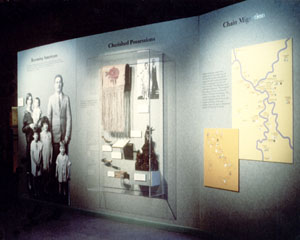 Exhibit elements such as casework and wall panels were designed with a clean, industrial-type look and finish to complement the building fabric of the renovated historic warehouse location. Striving to allow the immigrants to tell their own stories with only minimal third person labels, objects and large photographic murals were integrated with personal stories selected from the oral history project. The open multi-storied atrium adjacent to the exhibit area presented a traffic flow challenge, but mounting shallow wall panels along the narrow connecting route between the two exhibit areas alleviated the congestion.
Project Date:

1996


Exhibition Size:

3200 sq .ft.


Services Rendered:

Exhibit Planning
Collection Acquisition
Exhibit Design
Project Management

Deliverables:

Exhibit Budget
Preliminary & Final Design Drawings
Construction Drawings
Maintenance Manual